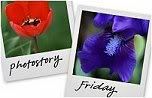 Hosted by Cecily and MamaGeek

We were on holiday last week and as part of that we took the kids to Colchester Zoo. It was a wonderful day, made all the more special by our friend R joining us. He is a fantastic photographer and knows a whole world more than I do AND he owns two DSLR cameras :D SO he brought his Nikon D80 for me to play with all day, whilst he shot on his Nikon D700 (oh Yes - such a lovely, HEAVY, piece of kit!!).
We shot side by side all day, with my son using my Canon S3 beside us too. We have a plethora of fantastic shots between us and if you will forgive me, for the purpose of story I need to use some of R's shots too.
We came to the Leopard enclosure and I'm not sure but that he was waiting to be fed because he was seriously pacing. Having taken shots of just about every animal in the zoo so far we had to get one of him, but the angle, the fading light and the speed of his pacing proved a challenge. R & I took shot after shot, to no avail. The others gave up and moved on, but I was determined...
This last one was R's best shot - he lost heart!
... and then I got THESE..!
(Don't forget to click the pics if you want to see them bigger still.)